Read all about it! Our latest newsletter has just been published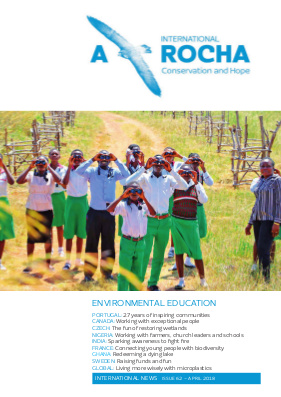 Hot off the press is the 62nd edition of the A Rocha International News. This issue has a special focus on environmental education and offers a glimpse at how A Rocha is inspiring a sense of wonder and joy by connecting people of all ages and from a variety of backgrounds with nature.
Did you know that over 26,000 people a year take part in our environmental education activities and learn, through hands-on experience and practical teaching, how ecosystems work? Our teams, based across 20 different countries, have carefully designed their education programmes to reflect each local context.
You can check out an account of our work with young people to protect the tropical, dry deciduous forests of India; read about how children are experiencing the wonders of the created world at summer camps in the USA and Sweden; and catch up on examples from colleagues in the Czech Republic, Portugal and France of their work with various groups, including students and tourists to manage precious wetlands.
You can also find out more about our work to equip farmers in Nigeria with new organic agricultural methods, how ancient traditions have inspired our education work in Ghana, and how we can all responsibly and sustainably address our use of plastic.