When to mow a meadow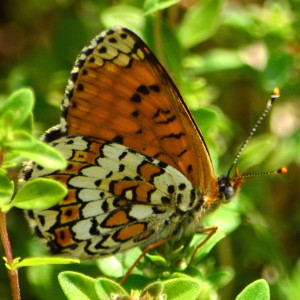 In Switzerland, dry meadows and pastures are a haven for biodiversity, hosting 30% of the country's species. They are usually managed with cattle, and sometimes goats, to keep them free of shrubs and small trees. There's a problem, though. If there's too much livestock, the meadow is damaged from overgrazing and trampling; if we keep the number of animals down to preserve biodiversity, then the shrubs will take over the meadow. So what to do? We asked Quentin Kohler, Nature conservation projects manager for A Rocha Switzerland:
'Careful manual management is necessary, and in the past the whole family and village neighbours used to help – but because of agricultural abandonment, now farms are larger, and farmers have less time. Our project tries to recreate the traditional model: we recruit small teams of volunteers to come once or twice a year, for a day or a few hours, and clear the shrubs. Everybody wins: the volunteers get a good day of clean air and outdoor exercise, the farmers are helped and dry meadow biodiversity is preserved!'
Since 1950, 90% of these grasslands have been lost to intensive agriculture, urbanization and scrub encroachment, but for the last eight years, A Rocha Switzerland has been helping reverse the trend through biodiversity surveys and habitat management. And in 2017 their work has been extended to wet meadows, where the team have removed invasive species like Canada goldenrod Solidago canadensis.
Smaller image: Glanville fritillary Melitaea cinxia, by Quentin Kohler